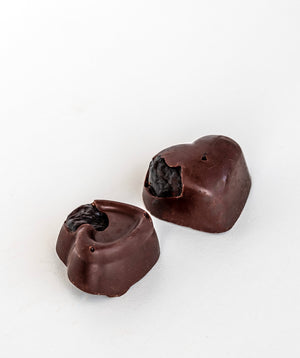 Cherry Hearts | 8 pack
Stone Ground Cherry Chocolate Hearts
65% cacao content
8 x 10g hearts! (net 80g)
We just can't keep up with demand for our decadently delightful Cherry bar so we made use of our heart shaped bar moulds to make a handful of these delightful cherry bites. Made with our ever popular Vanilla Sea Salt 65% dark chocolate, this bar embeds organic dried cherries in each bite. These very special sour cherries from Niagara, are lightly sweetened with cane sugar, giving them that perfect balance of tang and sweetness.
Add a little heart to your order and share some love with these delicious morsels of cherry chocolate goodness.
Ingredients: roasted cacao nibs, raw cane sugar, cacao butter, organic dried sour cherries (sweetened with cane sugar), vanilla, sea salt, organic sunflower oil.