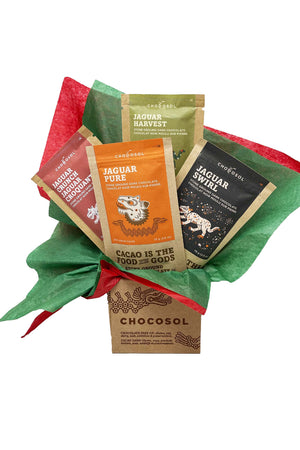 Golden Jaguar Gift Pack
Golden Jaguar Gift Pack
Gift an assortment of our delicious, creamy, award winning Jaguar Chocolate! 
This is the perfect way to share and experience our special Jaguar collection. With four unique bars that showcase our theobroma-bicolor white cacao bean in action.
Jaguar Pure allows you to try our Jaguar bean in it's pure form - 75% dark, but sweet and not dark at all to taste. (Try blending a couple pieces of this bar with a little hot water, and use an indulgent creaming with your morning coffee!)
Jaguar Crunch breaks up the smooth creamy texture with nutrient packed red cacao nibs
Jaguar Swirl is a fan favorite that tastes just like a caramel peanut butter cup but made with just ChocoSol's shade-grown chocolate! And no nuts used on site! What you're tasting is the magic that comes from the white cacao
Jaguar Harvest is another one of our bestsellers and includes dried cranberries, maple toasted Kakai pumpkin seeds, and red cacao nibs for a burst of flavour and texture. It's like biting into a granola bar!  
Tasting Notes: White cacao is creamy with mellow peanut and cashew tone, with a hint of butterscotch, malt, and caramel. Unlike classic red cacao, the Jaguar cacao is less acidic, with no bitterness. 
Although our Jaguar white cacao chocolate tastes nutty, please note that all our products are completely free of nuts, dairy, gluten, and soy. The nuttiness you taste in this chocolate comes from the cacao itself!
Each pack includes:
1 x Jaguar Pure | 75% white cacao content
1 x Jaguar Swirl | 68% cacao content
1 x Jaguar Crunch | 80% cacao content
1 x Jaguar Harvest | 75% cacao content 
A little about our Jaguar White Cacao - Also known as theobroma bicolor, white cacao grows in ancient forest gardens of Mexico. Not only are these forest gardens a habitat for fauna like the jaguar, they provide ways for indigenous communities to create safety belts of communal use around natural areas. This is beyond conservation, and is rooted in millennia of ecological and spiritual stewardship.
Today, ChocoSol is proud to be part of a small cadre of chocolatiers, chefs, farmers, and artisans participating in the regeneration of the white cacao, both through seedling planting and intercultural encounter, dialogue, and exchange, as well as through recipe development and intercultural learning.
ChocoSol's Jaguar chocolate recipe integrates spices including achiote, mamey seed, and rosita flowers from these ancient forest gardens to give our Jaguar its memorable taste.